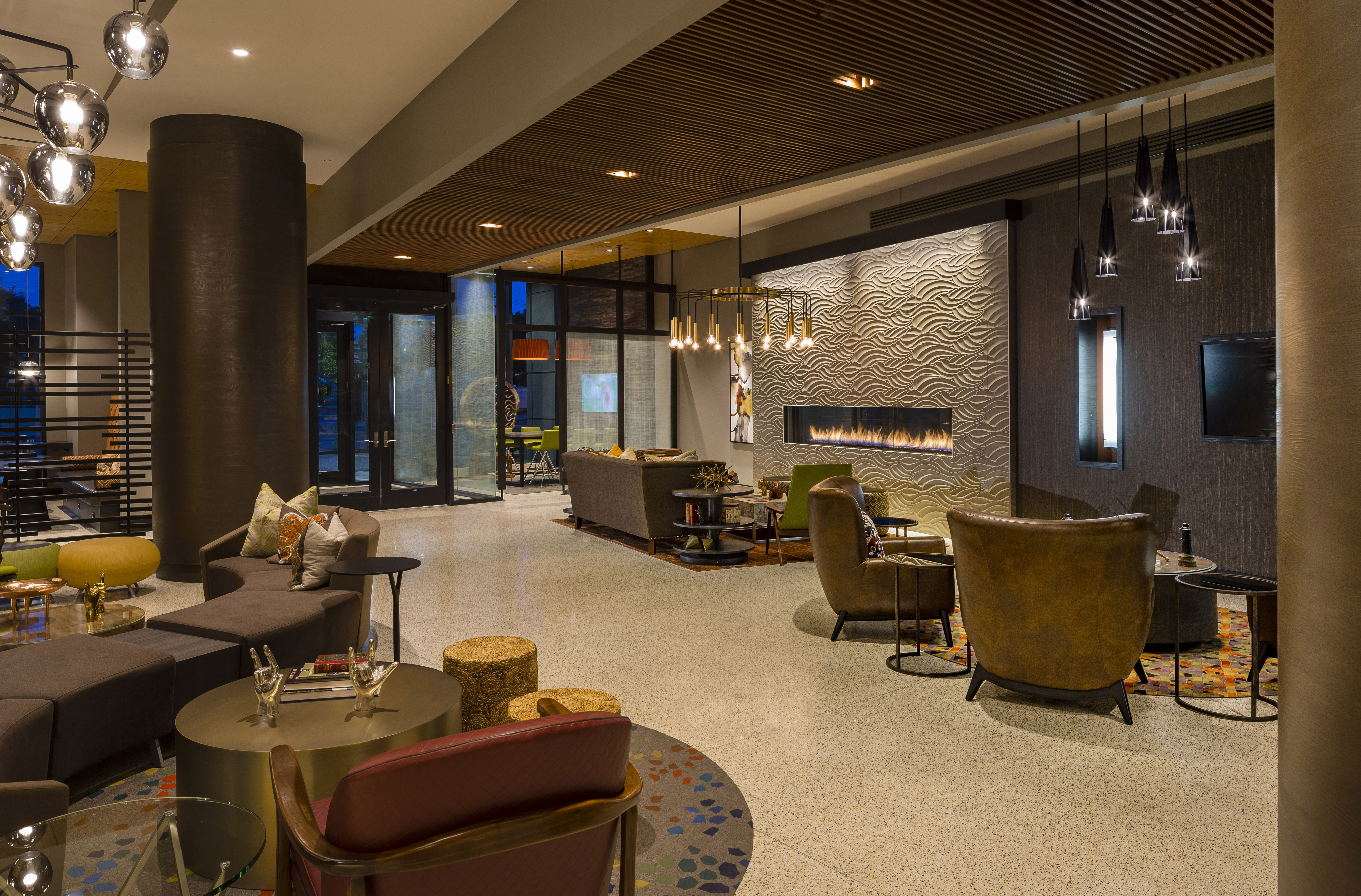 360 State Street Lobby After Renovation.
In the previous issue, we discussed how to know when your multifamily property should be renovated and what level of renovation was appropriate.  Once you have determined this, you will need to set a budget.
How much should you budget for your renovation?
Too often the renovation budget is set by an underfunded escrow account or is a result of mere guesswork.  If the budget is set prior to a comprehensive understanding of the building's existing conditions, the amount of space to be renovated, and the marketing challenges, the number will be inaccurate.  Either method can set the owner up for disappointment.
Determining a budget is a task that should take place long before the renovation is to begin. The budget for repositioning a property is frequently determined in the year preceding the expected renovation.  Depending on the level of the renovation planned, the budget may need to be determined farther out and the dollars allocated across multiple years. Collaborative discussions to prioritize the work will provide the best possibility for accurately setting the budget and obtaining future ROI. To assess the market, understand the conditions of the building, and develop a budget that is based upon real conditions, consider a team approach from the beginning.  Involving your design professional, management/marketing consultant, building engineer and asset manager before the budget is set will help to alleviate unrealistic expectations.
Depending on many factors that cannot be controlled for your plans, construction pricing can vary from year to year.   Even with the best planning, actual bids may come in higher than anticipated.  It is best to have a phasing and VE plan in place in the event that this occurs.
Phasing of the construction can be a great way to manage a budget that needs to be spread over a few years.  However, it is important to consider that there usually is a premium cost to phasing which will need to be considered in the budget.
Renovation Funding
Many owners frown at earmarking funding for renovation projects. They require management to meet the funding requirements from operational cash flow. This can be problematic for a variety of reasons.   The cash flow requirements for renovation projects are frequently substantial, and the funds are, in most instances, required at the early stages.  Professional and permitting fees, deposits, and advances need to be paid out before materials are procured and the contractor begins work.  Additionally, during the renovation process, the property will not show at its best.  This creates a tough selling situation for the marketing staff, which could mean a decline in revenue during construction.  This will further limit the operational cash flow available for the renovation.  To successfully meet your budgetary needs, you should consider setting aside funding specifically for the renovation.  A well-thought-out budget that includes a construction timeline will help to manage funding and decrease strain on operational cash flow.
Realizing ROI
A cosmetic renovation may be considered an expense as it will serve to refresh and to maintain the look of the building for a period of time.  A more comprehensive renovation will actually increase the life of the asset, so it would generally be considered a capital expenditure.
Keeping in mind that the core purpose of renovation is to improve revenue streams, it is important to consider that this will happen effectively only when the life of an asset is increased.
Owners and stakeholders will demand bang for their buck. Any renovation project is going to be tough to sell if there is uncertainty related to the return for the investment.  Consequently, part of planning a renovation includes doing the math to obtain the estimated ROI.
So many variables impact rents – such as the age of the building, its location, the surrounding competition, and the tenant profile – that ROI will vary widely from market to market and from property to property within the same market.  As a result, nationwide data is difficult to come by for multifamily housing renovations.[1]  However, skilled property owners say it's reasonable to expect a 10 to 30% ROI on their renovation projects, with wood floors, kitchen upgrades, and improved interior lighting as some of the top ROI generators.[2]  For purely cosmetic renovations, a 25 to 30% return should be the target.[3]  It is important to analyze typical ROIs in your market before setting a budget and determining what upgrades to include in your renovation.  The life span of your renovation will also have an impact on your ROI, so be sure to include this in your calculations.[4]
By addressing these considerations, you can have a successful renovation that will increase the life and profitability of your property.
---
[1] Jason Van Steenwyk, Rental Property Renovations that Pay Off, (Sep. 2, 2015), http://www.allpropertymanagement.com/blog/2015/09/02/rental-property-renovations-and-improvements-that-pay-off/.
[2] John Caulfield, Rehab ROI: Which Upgrades Cause the Biggest Rent Bumps?, (May 28, 2014), Multifamily Executive, http://www.multifamilyexecutive.com/design-development/renovations/rehab-roi-which-upgrades-cause-the-biggest-rent-bumps_o.
[3] Harrison Willis, Repositioning a Multifamily Asset, (2016), Cornell Real Estate Review, 14(1), 62-69,  http://scholarship.sha.cornell.edu/crer/vol14/iss1/12.
[4] Donald M. Davidoff, Rehab ROI: Do the Math, (Oct. 28, 2014), Multifamily Executive, http://www.multifamilyexecutive.com/business-finance/commentary/rehab-roi-do-the-math_o.
Check out the full renovation of Park Bethesda here: http://hartmandesigngroup.com//renovations/Residences-at-Capital-Crescent-Trail/
Written by Phyllis Hartman, ASID, LEED AP