Happy spring! Mother's Day is coming up soon and if your mother is anything like us, a lover of interior design and beautiful surroundings, we have the perfect stylish gift suggestions for her! We surveyed our team at HDG for some thoughtful gift ideas and these are what we've come up with:
House Plants
Always a sure thing. Plants add color and shape to both indoor and outdoor rooms. They add a biophilic element – connecting one's interior space to nature.
How about this Levitating Pot? You heard right! Levitating pots are an amazing combination of nature, classic design and technology, employing a zero-gravity system allowing you to cultivate your favorite plants in mid-air. Your plants will be nourished with 360 degrees of sunlight exposure, allowing them to grow straighter and healthier, all while floating supernaturally. House Beautiful has a myriad of great choice options, including the one pictured below:
Impressive, majestic, and tropical, you can never go wrong with Bird of Paradise! This low-maintenance plant is considered the queen of the indoor plant world and adds the perfect tropical touch to every room!
If your mom loves low-maintenance plants, show her you love her with this heart-shaped succulent garden from Pro Flowers. The perfect biophilic touch for any room, filled with a colorful array of succulents:
If Mom travels or would prefer a trouble-free biophilic addition, check out this artificial pair of jade plants in gorgeous geometric wall planters from Amazon:
Terrarium
A garden in a bowl! Terrariums are easy to care for, add that biophilic touch, and no two terrariums are alike. Doddle Bird Terrariums offer a miniature scene with live moss. Each piece is handcrafted using the highest-grade plants and supplies.
If Mom is more traditional, a la English garden, try this conservatory-style terrarium container from Spokane-based Ritters Garden & Gift and, yes, they do ship.
Or how about this High Borosilicate Glass Terrarium from Wayfair:
If you need plants for your terrarium, stop by the Little Leaf Shop on 14 th Street in Washington, DC or shop virtually, because, yes, they ship too!
Flower Vase
For elegant, feminine beauty, Michael Aram's sculptural vases are the way to go. Here's a stunning example:
Tray
It's a classic accessory, standing at the ready to hold all manner of objects from the bar to the coffee table to the foyer or boudoir. So many options!
Designer and blogger Paloma Conreras has many to choose from, ranging from burlwood to glitz. Here's our favorite, called Octagonal Ceramic Tray by Paul Schneider, in Dark Green/Greens Geode:
Does mom have a playful spirit? This Man on Edge granite sculpture in the Horchow John-Richard Collection will sure get her eye:
Tea Pots
For many, there is something truly soothing about warm cup of tea and having a beautiful tea pot from which to serve it enhances the pleasure. Check out Food & Wine Magazine's 8 Best Teapots of 2023 showcasing teapots practical and beautiful like this gorgeous Wedgwood beauty: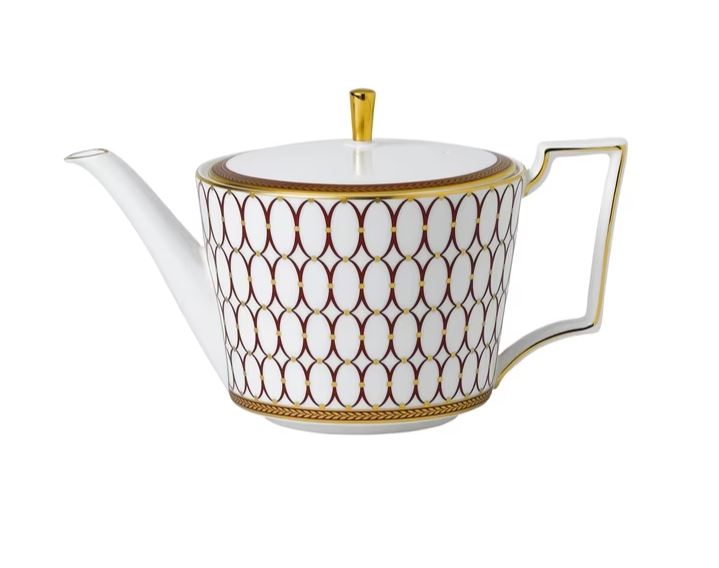 To fill the pot, choose from a fabulous assortment of custom-blended teas head over to Adagio Teas Tea Maiden Blend selection, including the Mother's Day-themed Mother-Knows-Best (pictured) Earl Grey, Lavender, Rose and Cornflower. Disclaimer: these one-of-a-kind blends are produced by our very own tea-blend-aficionado Christine Watts.
Throw Pillows
Throw pillows are like a punch of personality on an otherwise neutral chair, sofa or bed. So it's just a matter of figuring out where your mother's personality lies.
Pfeifer Studios is all about organic texture and color and have a stunning array of choices:
Serena & Lily is its preppy cousin offering even more splendid choices:
And John Derian is full of decadence and whimsy:
Throw Blanket
As everyone who appreciates spatial design knows, throw blankets enhance and add color, texture, and personality to any room; a lived-in feel to an otherwise sterile space. West Elm offers a nice assortment of soft ombre throws:
If Mom wants understated elegance, perhaps this Pottery Barn ruched faux fur throw would be her preference:
Herb Garden
Beauty and function come together in a kitchen herb garden.
This windowsill garden is a riff on the traditional tulipiere, from Plow & Hearth:
Combine several herbs into one garden in this contemporary fluted earthenware container from West Elm:
Coffee Table Book
It's the ultimate accessory for Mom's living room or den.
A young mother will appreciate the stunning photography and moving narrative in this ode to motherhood. Available at Aussoline :
Is she a wine connoisseur? Then this master guide will not disappoint. Available at Wine Folly of course!
Does she love interior design? Joanna Gaines knows how to create spaces you will never want to leave, from Magnolia Market.