Living affordably in a thriving urban environment often means giving up space—but that doesn't mean you have to sacrifice style along with it. Developers are offering smaller apartment units to make them more accessible in sought-after, high-rent districts. At Hartman Design Group, we like to get creative when designing model apartments to show prospective residents how much personality and function you can fit into these pint-sized pads. Take a look:
Studio Apartment at 2 Hopkins
Downtown Baltimore
Try introducing multi-functional pieces when your bedroom is basically a nook, and it faces the only wall where you can place the sofa. A queen bed leaves room for a dresser that doubles as a bedside table. A console table becomes a desk when you pull up a chair. The dining chairs also provide extra seating for guests, as do the ottomans that serve as accent tables when not in use. A pop of color on an accent wall adds a personal touch without taking up any space at all.
One-Bedroom Apartment at 360 State
New Haven, Connecticut
Several tricks are at play to visually expand this living room, like a large mirror behind the sofa to reflect the views and bounce light throughout the space. Allowing for a wider sofa, oversized wall lamps eliminate the need for side tables, and the furnishings have open legs to maintain a spacious feel. White, gauzy window treatments allow for natural light to flood the room without giving up privacy. When coordinating a model, we're not afraid to mix styles—eclecticism makes a personal statement by mixing vintage and recycled furniture with new and updated pieces: Do your dining chairs have to match? Absolutely not! A transparent "Ghost" chair from Homegoods adds a great vibe without any visual weight.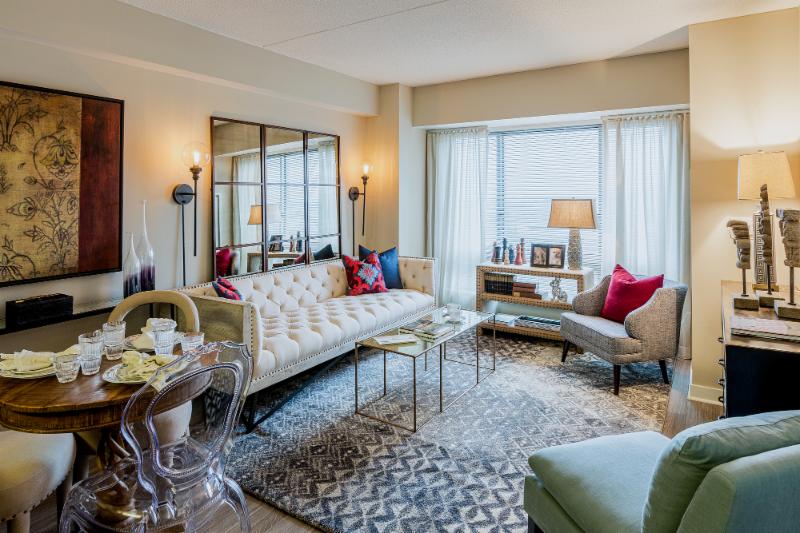 One-Bedroom at Insignia on M
Washington, DC's Navy Yard
The lesson here is not to be afraid of color in a small apartment. The tangerine accent wall makes Ikea's white lacquered modular storage unit pop and highlights the fun, mid-century modern floor lamps. Mixed in with a vibrant rug that anchors the colorful upholstery, the energy of this living room is much more the focus than its size. And like other small models we've designed, the open legs of the dining table, coffee table and chairs visually expand the space.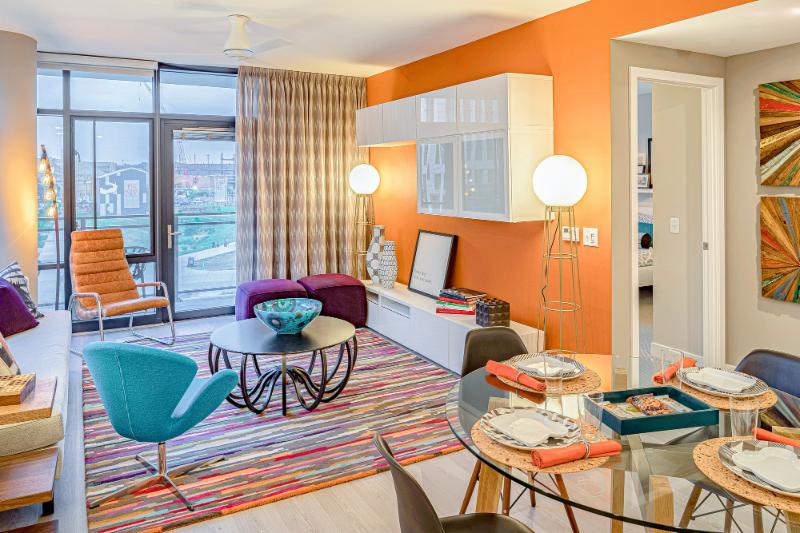 What a view! In this small bedroom, the floor-to-ceiling windows open the space and connect it to Navy Yard's hip, up-and-coming neighborhood. A low European-style queen bed maintains the broad sightlines, while wall lamps allow more surface area on the nightstands.
One-Bedroom at Insignia on M
Washington, DC's Navy Yard
Here's a great way to maximize living function. Ikea's modern, modular white-lacquered wall system surrounds a "found" vintage dining table that doubles as a work surface. Shelving expands the function of small spaces and provides the opportunity to display special objects, books, photos, and art.
One-Bedroom at Vy
Reston Heights, Virginia
Make every wall count when you're living small. This long entry provides an opportunity for both design and function. The stripes—an easy do-it-yourself touch—add color, make a personal statement and provide an intentional place for jaunty hooks from World Market to hold hats, bags, scarves and the dog leash. The design naturally draws your eye across the airy living space to the broad, outdoor views beyond.
In this compact, one-bedroom apartment, the window nook provides a natural enclave for the dining table, which can easily turn into a light-filled workspace. Imagine having your morning coffee or afternoon tea overlooking this lovely nature scene. And instead of a simple end table for the sofa, use a bookshelf with storage options.
Create your own artisan vibe! You don't have to own a ton of artwork to generate impact. Paint and molding from the local home store go a long way. A neutral palette provides solid grounding for changeable accent colors in pillows, accessories, or rotating works of art.
The brightly colored credenza in the main living area not only adds personality to the room, it's the perfect place to store AV equipment, games and anything else that might clutter the space.