The Healing Power of Nature 
There is a new-found appreciation for the therapeutic properties that plants and botanicals bring to the built environment. Spaces come alive with the introduction of floral patterns and greenery. Whether real or through imagery, a connection with nature supports our physical and emotional well-being. In Emma McGowan's article in Bustle, Emma attests that plants, a green palette, images of foliage and views of nature enhance creative thinking, reduce anxiety, clear your head and make you more productive.
1800 Oak in Arlington, VA – Preserved Moss Wall at the renovated fitness center
Parc Meridian in Alexandria, VA – Connecting the interior to the natural grasslands on site
More than a trend, this lifestyle shift exemplifies our desire to embrace wellness where we work and live. In the design world, this movement is showing up in homes, restaurants, the common areas of multi-family apartments, and condominiums, and in the materials that we use to design interior spaces. The wall-covering, tile, and floor-covering industries are introducing natural scenes and botanical images in new and inventive ways, all supporting our desire to bring the outdoors in.
Personal Spaces
"Creating a sense of security is one of the underlying roots of all of my designs…In fact, the notion of feeling cocooned, protected, and pampered underlies my whole design ethos. And it is no crime to design with comfort in mind." Timothy Corrigan, The New Elegance.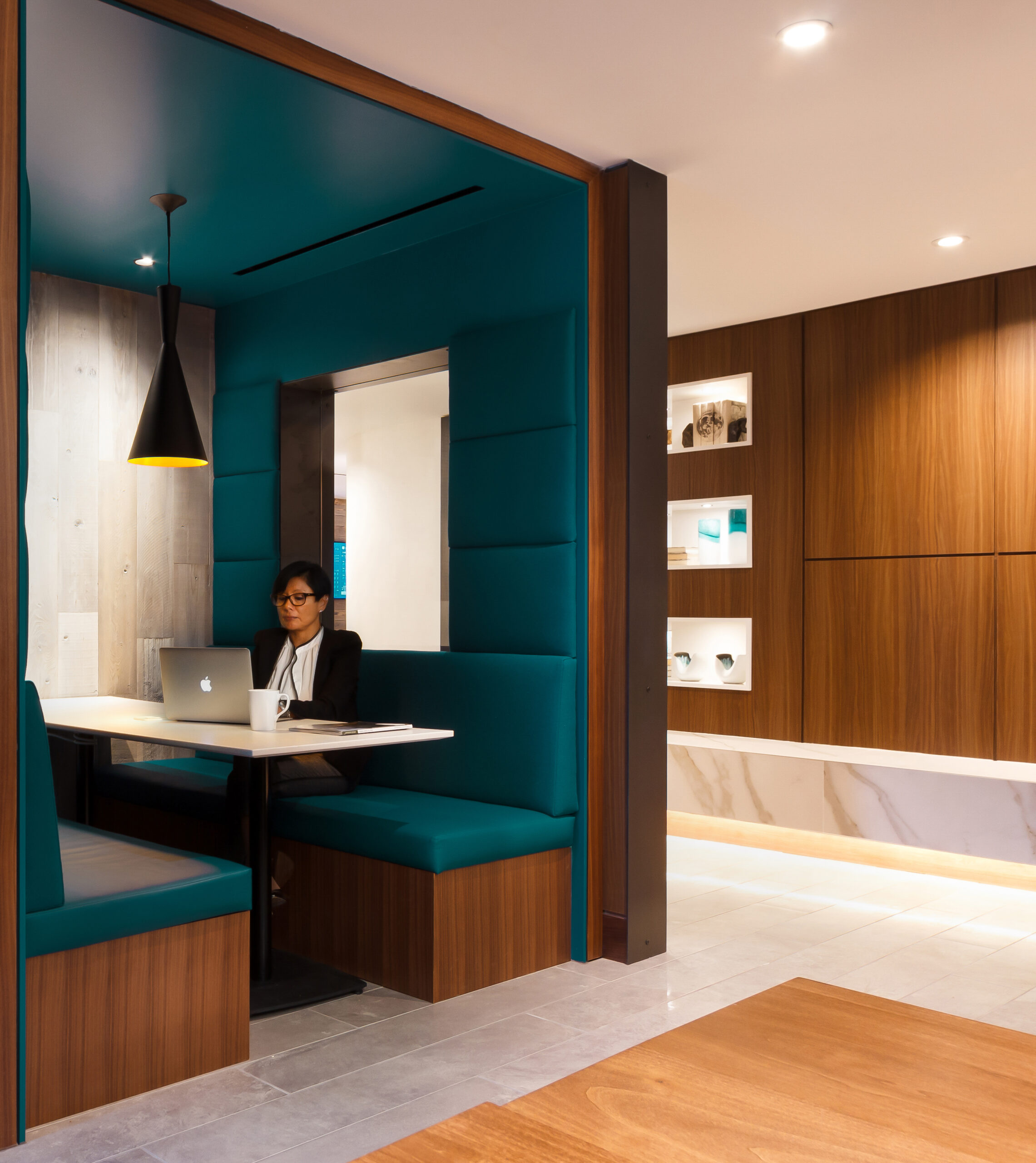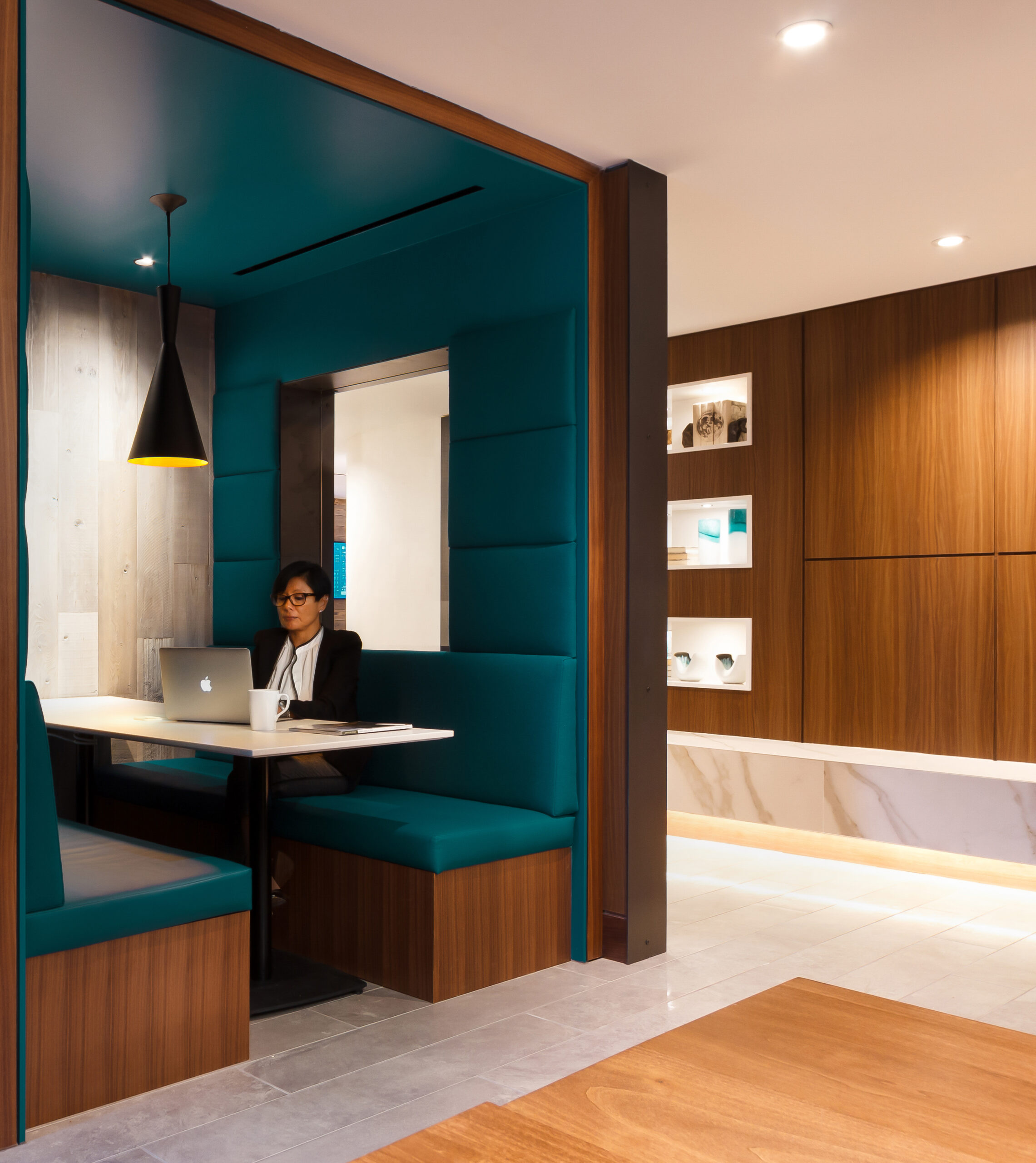 1800 Oak in Arlington, VA – Acoustically sound booths create intimacy within a social environment
The Signature in Reston, VA – A room within a room provides an intimate personal space for work or socializing
The desire for intimacy and personal comfort, especially in common and large-volume spaces, is well established. Rather than a trend, we see it as a lifestyle shift. Living and working in an urban environment can be lonely. By nature, we want to feel included, to be a part of a group. Finding your personal space in a coffee shop, a multi-family building, or at work fulfills the need to be with others and, at the same time, embraces our individual need to feel protected and secure. Whether co-working or relaxing, providing guests and residents with a place they can call their own creates comfort.
Mixed-Use Spaces
The demand to do more with less space is increasing. As land gets more expensive and the cost of construction continues to rise, multi-functional amenity spaces become increasingly important. Rather than compete in the amenities race, another road to success is to shrink the square footage dedicated to amenities and make every inch fully functional as well as visually stunning.
1800 Oak in Arlington, VA – Repositioning is the perfect opportunity to add functionality to every space. Featured are the ride-share lounges where a previously oversized vestibule dominated this lobby.
The Bartlett in Arlington, VA – The private residential connection between Commonwealth Joe Coffee Shop and The Bartlett lobby creates an energized vibe
Studies show that social interaction contributes to happiness. Active social spaces emanate a sense of community, create resident engagement, and positively affect resident retention. The "no one is home" lobbies of the past are a waste of space and create a negative first impression. Every nook and cranny can be programmed to provide an opportunity for residents and guests to find their personal space to work, play, and socialize. featuring a wrapping station for gifts and Amazon returns, the required mail and package rooms can be "experience centers." If the building allows for a combined amenity/retail experience, a lobby that connects with a boutique grocery, wine bar, or coffee shop creates lots of energy and a great vibe.
Hand Crafted Materials
With our desire to connect to the natural environment, comes an exalted appreciation of authentic materials-especially those that have been handcrafted by artisans or by the "maker" within each of us.
When the textures, colors, and materials of nature are married to interior spaces, we are reminded of the gifts found in nature and the importance of sustaining these gifts for future generations. As interior designers, we have the unique opportunity and the obligation to use materials wisely, and creatively and to embrace talented artisans that contribute so much beauty to our built environment.
Cultural Elements
Photo by Kalen Emsley on Unsplash
Today, people are more traveled than any generation in our past. The desire to see and experience other cultures is top of our bucket list. This is especially true of millennials, who are highly motivated to seek out new cultural experiences.  Their technological skills make it easy to find that special place in the world that offers a true authentic encounter centered on local art, music, and ethos.
Travel expands our design aesthetic.  Connecting with other cultures broadens our vision and view of the world. As our customers become more travel-savvy, the design profession is positioned to embrace the wanderlust trend by designing environments that recognize artists and artisans throughout the world. Furnishings, textiles, architectural materials, and lighting are just some of the ways that we can introduce multiculturalism into interiors.