With increasing competition, apartment properties are competing for occupants with newer and more original amenities. Which work? Which are worth the investment, upkeep and floor space? We believe the winner of this race designs space that enhances well-being.
Amenities that promote well-being:
10 years ago, did any of us in the multi-family design and development world understand how renters'needs and desires would transform into what they are now?   Who would have predicted that in 2017 some of the most important and critical amenities would revolve around on-line shopping and pets?  As sociological trends shift, we find many flocking to urban environments, living small for the benefit of city life, embracing pet ownership, and the convenience of having every impulse buy and necessity delivered to their doorstep.
Recently while sitting in miles of bumper to bumper Washington traffic, I had a paradigm shift of my own.  If we have a choice to spend the time in grid-lock versus walking our dog, having coffee at a neighborhood cafe, relaxing on a rooftop deck with friends and working in a well-appointed cyber lounge with free wireless internet, then why would today's renter not choose to find more enjoyment in how they spend their time?
So how can we design properties with amenities that enhance well being?
"THE GAME CHANGER IS TO APPEAL TO THIS SOCIETAL TRANSFORMATION BY REINVENTING COMMUNITIES AND AMENITIES THAT RESPOND TO THE WAY PEOPLE LIVE IN THEIR LOCAL CULTURE – INSIDE AND OUT."
Work and play everywhere:
Great design is a good start and is fundamental to every successful project.  The art of architecture and design has throughout history had a significant impact on well being.  Yet it takes more than that.  The game-changer is to appeal to this societal transformation by reinventing communities and amenities that respond to the way people live in their local culture-inside and out.  This includes designing multi-family buildings that converge all of the features that people need to work, play, socialize and re-charge in a healthy environment.
Even though millennials may be the driver of this trend, regardless of age, people want a high quality of life and less stress.  Those in the workforce are spending more hours at work and many are constantly connected.  Developers and designers of multi-family properties can make the time more productive for residents and work more enjoyable by creating well-designed co-working amenity spaces.  Conference rooms, booth seating, work pods along with high tech audiovisual features create a live/work environment that allows for individual work as well as teamwork.  In a time when offices are being designed like homes, residential buildings that provide well-appointed workspaces support the trend of the live/work blur.  The owner, residents, and employers reap the benefit.  Less time spent in traffic or on mass transit translates to a more relaxed, happier, and more productive workforce and resident.
"DEVELOPERS CAN MAKE TIME MORE PRODUCTIVE FOR RESIDENTS AND WORK MORE ENJOYABLE BY CREATING WELL DESIGNED CO-WORKING AMENITY SPACES."
Online shopping:
Package receipt and storage are an expected amenity and one that is growing more important. Our clients frequently ask us how large of a package room is required.  As we look to the future, I am not sure we can predict the need, though we know that the demand is increasing.  Currently, we are recommending 2 SF per unit.  In a 300 unit building, that means 600SF should be devoted to a large, secure room to store packages.  Package lockers can supplement and, in our experience, have been very well received by residents and operations.  They provide flexibility for residents and save much time for the leasing and concierge staff.
Consider turning the package locker area into a social experience for the residents.  If there is space, consider a wrapping station for easy package return, shipping, and gift wrapping as well as a communal table.
Pets:
We love our pets and it is proven that pet ownership reduces stress!  It is well known that interaction with a gentle pet has significant human benefits such as lowered blood pressure, endorphin release, pain reduction, and relaxation.  Pets are also social magnets.  What better way to get to know your neighbors than to get to know their pets?  Multi-family developers can create a sense of community by engaging and promoting a pet-friendly environment.  For planning purposes, we recommend that pet spaces move to the top of the programming list.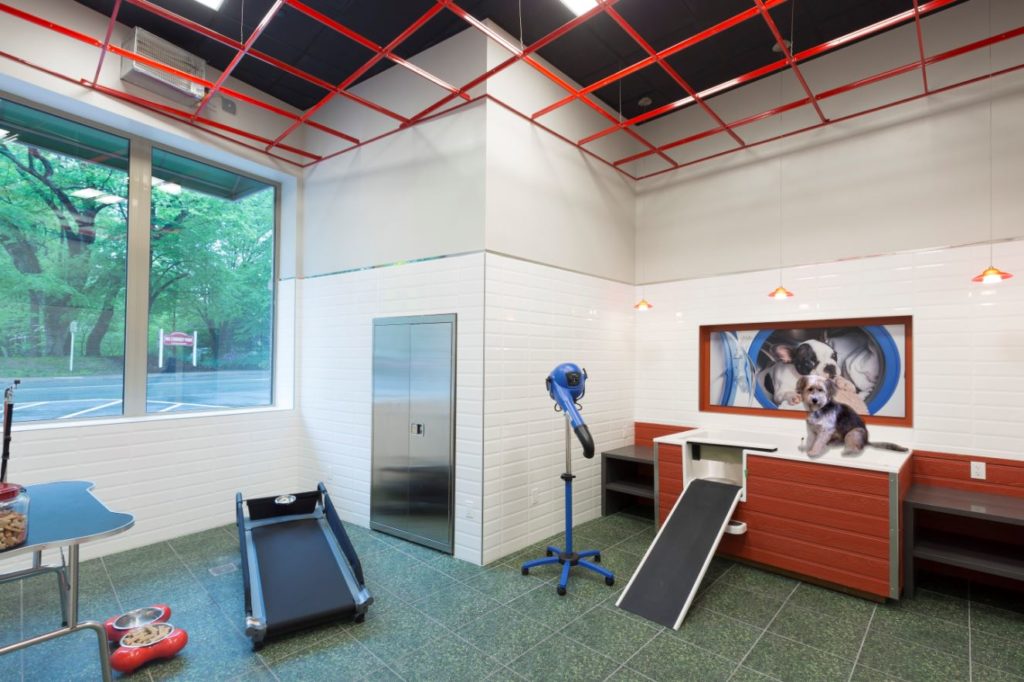 Much can be done to support your resident pet lovers without breaking the budget.  Instead of a closet with a washing tub, create a pet experience space.  Pet/human lounges that provide a place for pet owners to gather for conversation and pet play can be indoors or out.  Pet runs with play space and well-appointed spas are memorable and make a marketing statement about the pet-friendliness of the property.
Re-charge through connection to nature:
Our need for a connection to nature is deep and fundamental.  As we become a more urban society, designing spaces that bring the outdoors to our built environment is increasingly important to our health and well-being.  Incorporating elements of nature, even though graphics and interior plantings, have stress-reducing effects.  Biophilic Design is the emerging science that advocates the human connection with nature in the built environment as a way of soothing and energizing the mind and body.  Through thoughtful design, every common space can support our changing lifestyle and the tendency to blend work, play, and relaxation.  Buildings that are flexible and adaptable enough to accommodate our transformational and healthy lifestyle are the way of the future.
Written by Phyllis Hartman, ASID, LEED AP